Figure 4. Cables under the armrest. Also, rear console top retaining screws.
Removal of the armrest reveals the cables that run to the compartment on the left side of the trunk. There is an antenna cable with a male mini-UHF connector and a wire bundle with an 18-pin black plastic female connector.

The two screws at the top of Figure 4 are the rear retaining screws for the console top. Remove them. For reassembly, note that these screws have washers whereas the armrest screws do not.

Console Top Removal
The escutcheon surrounding the gearshift lever is removed next. Work your fingers under the escutcheon through the boot as shown in Figure 6. Pull up to release the clips that attach the escutcheon to the console. See Figure 7 which also shows the released boot retaining ring.

| | |
| --- | --- |
| Figure 6. Removing the escutcheon. | Figure 7. Escutcheon clips. |

The retaining ring that holds the boot to the escutcheon is released by depressing the two clips on the right side and two clips on the left side of the ring. These are accessed from the underside of the escutcheon and can be depressed by feeling their location. Pull the boot up to separate it along with the retaining ring from the escutcheon. Freeing the boot facilitates subsequent console top removal. Remove the two console top front retaining screws shown in Figure 8. Lift the hazard switch up as in Figure 9 to reveal the console center retaining screw shown in Figure 10. No need to disconnect the wires. Remove the screw.


Figure 8. Console top front retaining screws.


Figure 9. Lifting the hazard switch.


Figure 10. Console top center retaining screw.


Figure 11. White connector retaining ears.

Now that all five screws have been removed, lift the console top up and over the escutcheon to reveal the white connector to the left of the gear lever that is attached to a plastic bracket on the console top. The escutcheon has to be turned sideways in order to get it through the console top. That is why the boot was loosened. The white connector (Figure 11) is disconnected by depressing the ears on the top and bottom and pulling the connector back. The front part of the connector is removed from the console bracket by pressing down on the small tongue that becomes visible when the rear connector is removed. Press down on the tongue and slide the connector forward. Now the top can be lifted over the gear lever and set aside. There will still be wires attached to various components on the console top, but the console can be removed, revealing the space under the console top.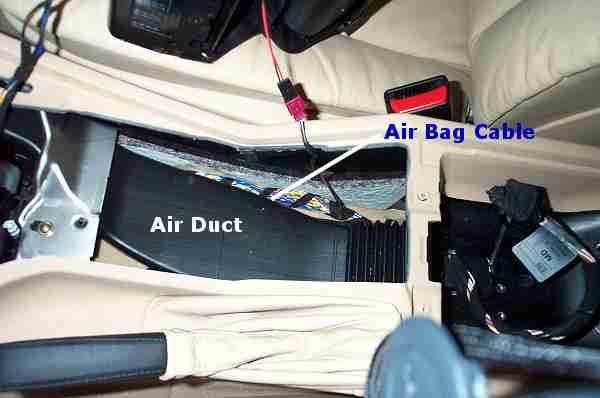 Figure 12. Console top removed.

Do not even think about cutting or splicing the air bag cable. The two cables from under the armrest are positioned so that they will lay on top of the airbag cable where they remain until the extension cables are fabricated.