Posted by arnolds on May 08, 2001 at 21:03:11:
In Reply to: key and memory options posted by peter on May 08, 2001 at 21:00:51:
(posted from: we-24-31-62-86.we.mediaone.net (24.31.62.86))
Here's the car key form..courtesy of Fred Meloan.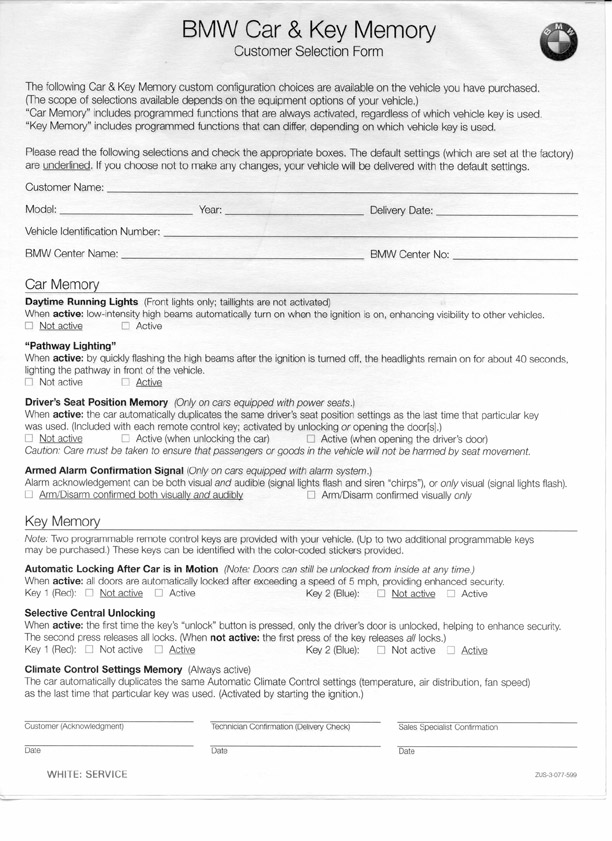 ---
Message Title: Car & Key Memory options - some stuff to consider
Posted by: Jim Cash on 2002-07-18 at 17:12:51
(posted from: Host: hse-montreal-ppp141224.sympatico.ca IP: 64.228.205.151)
Message:
Sorry if this is a repeat of previous posts, and I found this on the E65 board so the credit goes there...
BUT - thought it worth posting the references again here for the following reasons:
The optitions for climate control may help you with addressing some operating concerns.
Other questions keep coming up about various sub-systems. The operation of your car depends on how these options are set on "your" car.
They must be set by the dealer with the DIS, or portable programer.
Dealer can give you a printout of how they are set on your car - good for future reference.
The printout will look very similar to what you see on these samples includiung showing the default settings, the current settings for your car, and which ones you can choose to change.
These vary greatly by car model and time of production.
There are 2 versions on the link - there are some differences based on when this data was originally pulled.
Some of it looks newer than I remember so some may only be available to the new 7, but most of it looks like what I have seen for the E39 for some time.
Note - any time you take your car in for maintenace it is not a bad idea to have them note the current settings, and make sure they aare the same when they return your car. Some maintence work can cause things to go back to defaults - especially if components are replaced.

Cheers
Jim Cash

Link: Link to Memory options post (Below)
---
Message Title: Check these links...
Posted by: LowTech on 2002-07-18 at 12:19:16
(posted from: Host: acs-24-154-244-10.zoominternet.net IP: 24.154.244.10)
Message:
Don't know if the info is fully accurate for the E65, though...

2001 740iL E38 Loaded Black/Black
2002 745Li E65 Loaded Silver/Gray
LowTech's Dual Sevens Page