How to ID & remove clip to move drivers se
---
(archive link: http://www.bimmer.org/5series/messages/archive/msgsy2000w52/13081.html)
Posted by Boehler on December 31, 2000 at 02:05:50:
In Reply to: How to ID & remove clip to move drivers seat... posted by Franz on December 30, 2000 at 21:44:29:
(posted from: 63-151-64-16.hsacorp.net (63.151.64.16))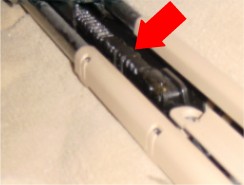 Lefty, how about adding this to the tips:
To gain a few extra inches of drivers seat legroom, do the following:
1. move the drivers seat all the way forward
2. from the back seat, locate the clip attached to the right side drivers seat rail (see pic).
3. lift the clip up using a screw driver or pliers.
The clip is flexible metal and can be removed and replaced without harm.