What is Euro Delivery?
Euro Delivery is a program that will let you take delivery of your German built BMW (Z3 and X5's are built in South Carolina) in its native land in Munich, Bavaria, Germany. The car you order will be just like the car you can buy at any US dealer. You can drive the car in Europe for 30 days and drop off the car in numerous locations throughout the continent. It will take about 6 weeks for the car to get your US dealer for final delivery.
Why do it?
For many, the opportunity to drive one's bimmer on the autobahn is a good reason enough. Also, if you were planning to go on a european trip anyway, driving your own car will save you car rental fees.
I'm sold….how much will it cost me?
Actually, you will get a seven percent discount from the US sticker. For example, if you order a basic no option 2001 530 for euro delivery it will cost $36,640. The same car for a US delivery is $39,400. This represents a seven percent discount enough to pay for the trip itself.
Can I haggle the euro-delivery msrp?
Contrary to what the dealer might say, yes you can usually negotiate a lower price off the euro-delivery price. Many participants on the bimmer.org board have been able to get $1500 to $2000 over euro invoice. My euro-delivered 2001 530I cost me 43,495 not incl taxes. The same car has a US sticker price of $49,675. My price represents a deal of $1,700 over euro invoice. For information on invoice pricing, please visit www.eurobuyers.com
Which dealers can do this?
Any BMW Center in the United States can do this but it is advisable to negotiated with a BMW center that has handled these transactions before. There is usually a lot more paperwork to deal with for the dealer so many are hesitant. Many will also say they will not discount since you are already getting a discount off the US Sticker.
For more info on the program, please visit the BMWUSA website at www.bmwusa.com/virtual/eurodeliv/overview.html
Any suggestions for dealerships?
Although it is advisable to deal with your friendly local BMW center, many have been able to order the car from an out-of-state BMW center and
Pick up the car from the said dealership and drive home
Arrange for your local dealership to do a courtesy delivery (usually at a cost <$500)
Have the car shipped from your far away dealer to your house.
Although I live in Los Angeles, Ca. I ordered my car from Tyler Grube of Dave Walter BMW of Akron Ohio. I picked up my car from Pacific BMW in Glendale CA which collected from me the DMV fees and taxes upon delivery of my car.
Steve Diamond of Eurobuyers.com also come with great recommendations. You can contact him at www.eurobuyers.com

Don't I have to pay import taxes and shipping?
NO. The price you pay includes the shipping and the custom duties.
Can I have a relative pick up the car for me in Munich?
No, you have to go there and pick it up yourself. Many adventurous fellows have flown to Munich for one day, sign for the car and flew back to the US. Crazy, but to each his own.
I have to finance my car, can I still do euro-delivery?
Yes, but your financing choices may be limited since you have to pay (fund) for the car at least 30 days before your scheduled pickup in Munich. It will always be easier to finance through BMW Financial Services than through eloan or your local Credit Union. Many loan companies will balk at funding for a car without the VIN# or the actual car in the US. However, many have been able to get loans other than BMWFS so it depends on your lender.
Can I lease?
Yes you can but there is a drawback in leasing. You will lose about three months from your lease because of the time it takes for you to actually take final delivery in the US. See below for the timeline.
When is the best time to go Germany?
Off-season is the best time to go which is between October to April. Planefares are cheap and the roads are not crowded. I paid 550 roundtrip to Munich in early November 2000
Timeline(Approximate)
0 Day Order Car
60 Days Finalize Paperwork and sign loan documents if leasing/financing, pay first lease payment
90 Days Make first loan/ second lease payment
Pick up car in Munich Germany
DRIVE ON THE AUTOBAHN!!!!
Drop Off Car in Drop off location(s) within 30 days
120 Days Make second loan payment/ third lease payment
Car is on ship from Bremerhaven to the US
150 Days Car is ready for delivery in the US
Other Perks
Grin on face while driving at 130 mph
First Aid Kit included in the car (not avail in the US delivered car)
Safety triangle included in the car (not avail in US delivered car)
You get authentic euro plates.
Drawbacks of the program
Some parts of Europe are off limits such as most of the Former Eastern Bloc
The wait sucks…..after dropping off the car, its painful to wait for the car to get to the US.
As stated, you're making payments for a car not in your possession yet.
You get addicted to the euro-delivery program.
You begin to wonder why there are so many idiot drivers in the United States
The payoff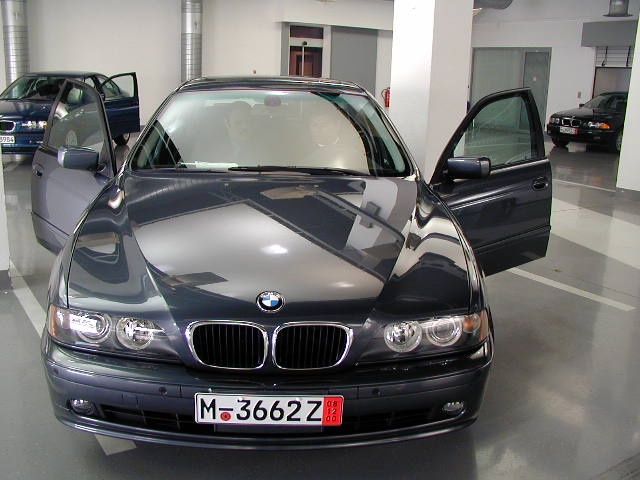 November 9 pickup at Munich
More pictures here
Prepared by arnolds - 01/06/01