Fluid changes
---
(archive link: http://www.bimmer.org/5series/messages/archive/msgsy2000w43/91059.html)
Posted by DHoang on October 25, 2000 at 22:03:35:
(posted from: dialup-64.154.149.11.austin1.level3.net (64.154.149.11))
Well, folks...I got a bit restless again today and plunged right underneath the car and started draining out ancilliary lubricants. THhe day before, I drained & refilled the antifreeze. Having gone through this adventure today, I uncovered a few common sense things.

1) Service the manual trans & power steering fluids concurrently. The manual trans takes approx. 1.5 quarts and the power steering takes 0.5 quarts of the same automatic transmission fluid. Two quarts complete this job nicely. I replaced w/ Mobil 1 ATF. To date, I've replaced this per 25k miles.

2) Consider removing the fill plug prior to instead of after removing the drain plug where the lubricant has completely drained out. If you encounter a stuck fill plug, then you will not find yourself w/ an empty transmission or differential. Also, it evens out the pressure drop inside of the casing so that the lubricants drains out in one smooth stream rather than purge out in large clumps that can splatter out and miss the drain pan.

3) Once all of the fluid has been filled, run through the gears while the car is on jack stands. It takes a fair amount of time to coat the gears with the new lubricants. I could hear my gears whine for the first 10-15 secs of rotation. Thus, not loading the gears while getting this initial coating of lubrication is good.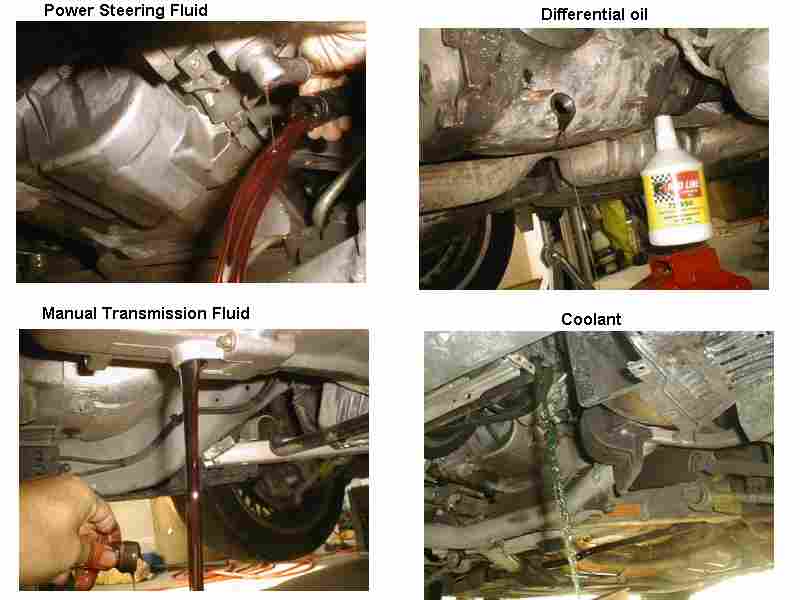 Hope this is informative and entertaining.