TV on Nav - COMPLETED! EVERYTHING WORKS!
---
[ Follow Ups ] [ Post Followup ] [ 5-series (E39) Message Board ] [ Msg. Board FAQ ]
---
(archive link: http://www.bimmer.org/5series/messages/archive/msgsy2001w06/28175.html)
Posted by SVTWEB on February 06, 2001 at 17:56:27:
(posted from: cc368628-a.owml1.md.home.com (24.3.39.145))
As my father always said:" Where there's a Weber, There's a way!"

Success! Success! Success!

Many thanks to all those who helped me acquire the parts needed for this installation. Ole, BÝrge, Steve. If it was not for your efforts on the other side of the big pond I could not have triumphed!

This modification works on E39's Made after 09/97. You must have the MKII Nav system. I am in the process of getting a 2001 E39 as a test mule. All current information points towards it working also.

A parts list is below. All the parts listed ARE available in the United States. The route that I used to get the parts (Norway) was needed to get the actual parts in my hands so I could get the correct part numbers off of them.

Hex bolt - (2) 84 31 8 361 762
Tooth Washer - (2) 07 11 9 936 133
Left TV amplifier - (1) 65 24 8 362 532
Right TV Amplifier - (1) 65 24 8 362 533
TV Module - (1) 65 50 6 911 222
Hex bolt with washer (1) 07 11 9 902 007
Body Nut - (1) 61 13 1 372 033
Wiring Harness - (1) 61 12 8 377 436
Left Antenna Lead - (1) 65 24 8 369 471
Right Antenna Lead - (1) 65 24 8 369 470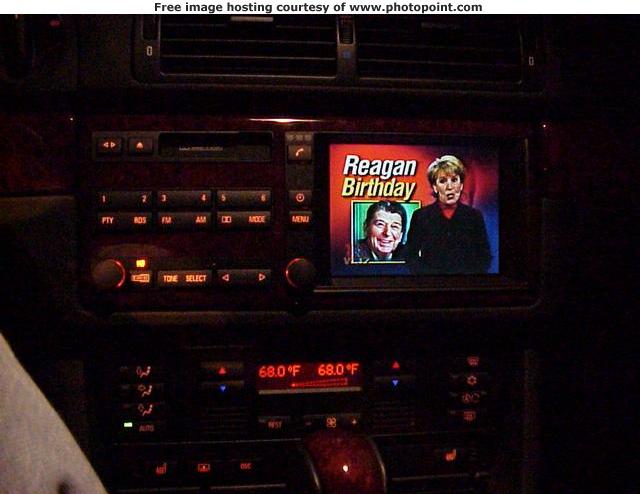 On a scale of 1-10, I rate this job at a 7. You must be comfortable with removing the rear deck, removing the Nav Computer, CD Changer, and DSP (if equipped). Also there is some minor wiring that must take place to graft the cross-over harness from Europe to the Nav/Monitor harness. (3 wires)
My Vehicle didn't need re-coding. The On-board systems began talking to each other right away without a trip to the dealer. I believe MY99 and on are more flexible with detecting changes. The "Television" Selection takes the place of the "GPS Navigation". The "GPS Navigation" moves to the 2nd Item down on the Left Column. That is the only difference. The Font's, Colors, and Functions stay the same.
Reception is very good considering your using the rear defrost grid for an antenna. You can only view the TV while the vehicle is standing still. You do NOT need to have the emergency brake on. The screen blanks with a message while the vehicle is in motion, but returns when you come to a stop. Audio can still be heard while the vehicle is in motion.
All in all I have to say that I am pleased with the end result. The waiting for parts was the hardest part.
Now if you all could pitch in and get me a case of Thomas Hardy's ale I think it's a fair trade for my time. :)

---
---