Nokia Cellular Phone Mounting Solution for BMW
By Gary Ray
E39 (1997-2001 5-Series)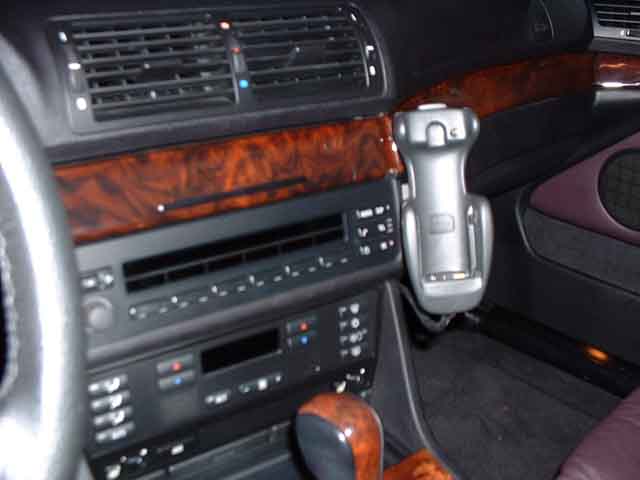 Nokia 6160 Car Kit with Pro-Fit Mount
First, do yourself a favor and have this professionally installed.
With the external antenna rubber piece removed and the phone placed in the cradle, the Nokia has a special "Car" profile that appears for the first time. The profile allows several options, including a different ring than the standard profile, volume controls, phone lights on or off while driving, auto shut-off when the car is stopped, and auto-answer (bad idea). The kit can also be installed with an optional stereo mute feature when receiving incoming calls.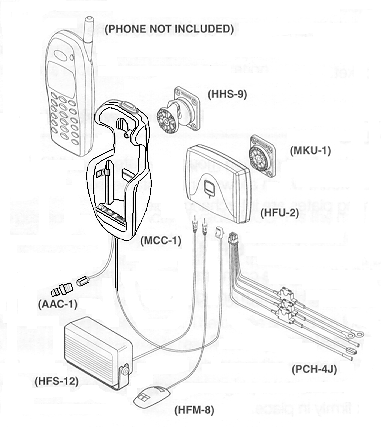 The car kit's antenna wiring is routed back to the the connection for the stock antenna (or where the new one goes if you don't have a car phone). The antenna is replaced (if you have one already) by a Cellular One (provider) antenna which is nearly identical. The speaker is located unobtrusively in the foot well of the front passenger. The microphone is wired under the interior trim and is velcro-ed onto the ceiling next to the stock BMW microphone.
I had the installation professionally done by a Cellular One installer for about $150. The guy turned out to be a real BMW fan, with his own bimmers at home and a good knowledge on how to unobtrusively mount the phone and wires.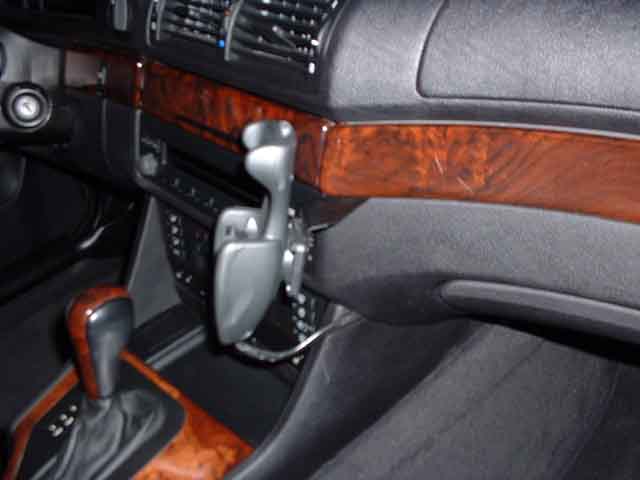 Using the Pro-Fit mount, which is fitted under the trim below the glove compartment, the phone kit avoids the ugly kit stocks that many cars have, protruding from the floor and annoying passengers. The pro-kit is also universal, meaning a NexTel or other car kit could easily take advantage of the mount. Passengers have no problem with space, although the kit does block site of the radio and OBC controls, but those are rarely used while driving.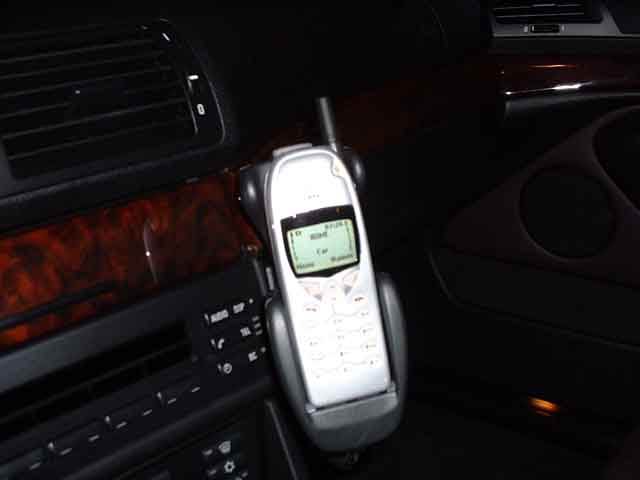 Notice the "Car" profile listed on the display. Pressing any button automatically activates the speaker and lights up the phone, to assist in dialing.
You can always add accessories to the Nokia. For example, I've got a matching silver cover that goes with my cars exterior. The big reason for a new phone cover is so that I don't leave my phone in the car, since the standard black or gray case allows the phone to blend into the background, which looks nice but often resulted in my leaving the phone in the car. Other helpful options include a lighted antenna (not shown) and lighted buttons.
Helpful Links
Pro-Fit VSM Installation Instructions for BMW 528i/540i (1997-2000) (In Acrobat)
Nokia Accessories (including Complete Car Kit) for 6160
E-mail for Robert Magnuson, Knowledge Cellular One Installer in the SF Bay Area
Instructions by Andrew Papanikolas on Integrating Nokia kit with the BMW computer (not for novices)
The European Armrest for replacing older BMW integrated phones
E-mail me if you have hints, suggestions or comments